Remarks by DG ISSI Ambassador Sohail Mahmood
at the Inauguration of "ASEAN Corner" at ISSI
Islamabad, 23 October 2023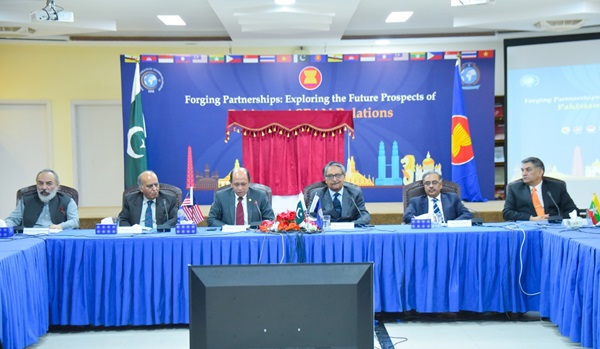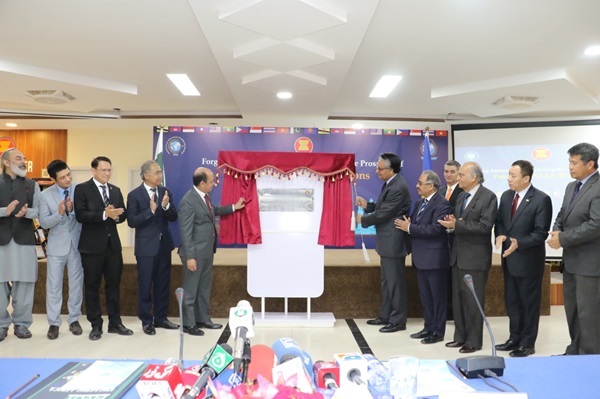 Honourable Ambassador Jalil Abbas Jilani,
Foreign Minister of Pakistan,
Ambassador Khalid Mahmood, Chairman BoG,
Excellency Mohammad Azhar Mazlan, High Commissioner of Malaysia – Chair, ASEAN Committee in Islamabad (ACI),
Ambassador Khurram Rathore, Additional Secretary (AP), MoFA
Excellencies, Heads of ASEAN Missions,
Distinguished participants.
AoA and good morning!
Today marks a moment of immense joy and pride for the Institute of Strategic Studies as we inaugurate the "ASEAN Corner" at the ISSI.
We are honoured that Foreign Minister Jalil Abbas Jilani could take the time out of his extremely busy schedule and grace this important occasion. Together with all ASEAN Heads of Missions in Islamabad, we are going to lay the foundation of another track that would reinforce the efforts for a closer relationship between Pakistan and ASEAN.
We are grateful to High Commissioner Mazlan, Chair of ASEAN Committee in Islamabad (ACI), for his leadership role in steering this process from the ASEAN side. All the ASEAN Heads of Missions present here have enthusiastically participated in this endeavour over the past several months. Our sincere gratitude is due to them for their efforts as well.
The idea of establishing this "ASEAN Corner" was affirmed when ISSI and ACI held their first-ever structured Dialogue on 12 January 2023. Since then, our respective colleagues at CPSC led by Dr. Talat Shabbir and at the ASEAN diplomatic missions have worked assiduously to turn the concept into reality. I take this opportunity to thank all these colleagues, individually and collectively.
I do also wish to thank Pakistan's Heads of Missions in ASEAN member countries for their valuable contributions. In this regard, I particularly acknowledge Ambassador Hassan in Jakarta, Ambassador Sahibzada in Bangkok, High Commissioner Rukhsana in Singapore, Ambassador Kazi in Manila, and Ambassador Samina in Hanoi, for generously contributing books and printed materials for our collection.
Last, but not the least, we are deeply grateful to the Ministry of Foreign Affairs for its consistent support, ever since this initiative of structured ISSI-ACI Dialogue and establishment of "ASEAN Corner" was launched earlier this year. The Foreign Minister's personal participation in this ceremony today is another powerful illustration of this invaluable support. Thank you, Sir, for this patronage.
Excellencies,
Distinguished participants,
The establishment of this "ASEAN Corner" is premised in the conviction that developing a deeper understanding of ASEAN and its place and role in the region and the world is vitally important. This endeavour envisions a fusion of knowledge, expertise, and academic exchanges – creating a nexus that helps enrich the broader research and policy communities in Pakistan.
To start with, we have accumulated more than 350 books, research journals and other printed materials. As noted before, a bulk of these have been presented by the ASEAN Missions here, and Pakistan Missions in ASEAN capitals. The rest have been generated through ISSI resources.
We have also gathered an impressive amount of digital resources — including 2500 E-books on different ASEAN-Southeast Asia related titles; 1122 ASEAN Library e-books (online); full access to 660 journals; and access to more than 20,000 relevant research Articles.
A set of representative handicrafts and other products have also been included for display. They vividly depict the rich tapestry that is so intrinsic to Southeast Asia.
This repository of knowledge is aimed at enabling researchers, analysts, scholars and practitioners to delve deeper into the multifaceted political, economic, social and security landscape of Southeast Asia. We hope this collection would engender more strategic insights into the region, promote an informed discourse, help formulation of well-considered recommendations, and facilitate forward-looking diplomatic initiatives for Pakistan's enhanced engagement with ASEAN. Equally, we hope that the 'ASEAN Corner' will act as a catalyst for networking and collaboration between the relevant counterparts in ASEAN and Pakistan.
Excellencies,
Distinguished participants,
Pakistan has commonality of faith with several members of ASEAN, and it shares ancient Buddhist heritage with the others. Since medieval times, our lands have been connected through the sea. This maritime connectivity was part of the larger enterprise of bringing West Asia, the Middle East and Central Asia together with the East in a web of linkages in trade, commerce, culture and people-to-people contacts. This connectivity helped the exchange of big ideas and enabled Islam and other religious traditions like Buddhism to traverse the regions.
Since its inception in 1967, ASEAN has traveled a long distance and evolved into a formidable bloc of 10-members (soon to be 11) for regional cooperation. With an overall GDP well over $3 trillion, ASEAN is now the 5th largest economy in the world and on track to become the 4th largest by 2050. ASEAN is also the leading destination for foreign direct investment and the most successful regional economic integration initiative in the developing world. In 2020, it took the far-reaching step of establishing the Regional Comprehensive Economic Partnership (RCEP).
Despite the global economic slowdown induced by Covid-19, and geo-strategic headwinds manifested in major-power competition, ASEAN has managed to keep its growth trajectory and maintain steadfast commitment to its core tenet of 'ASEAN centrality' in the regional architecture.
Pakistan's desire to forge a closer relationship with ASEAN is driven by its 'Vision East Asia' policy and the imperatives of geo-economics. This vision is inspired by a clear recognition of the ASEAN 'miracle' that has contributed immensely to peace, regional integration, and prosperity through effective regional cooperation in Southeast Asia over the past several decades.
It was in 1993 that Pakistan and ASEAN agreed to initiate a Sectoral Dialogue Partnership. In subsequent years, the scope of this sectoral dialogue was expanded and many new layers of collaboration added to the edifice. Pakistan acceded to the Treaty of Amity and Friendship in 2004 and also became a member of ASEAN Regional Forum (ARF) at the same time.
Over the years, Pakistan's diplomatic footprint in ASEAN has grown more distinct; Pakistan-ASEAN trade and investment has expanded; counter-terrorism and security cooperation has increased; several development and capacity-building projects have been completed with the support of ASEAN-Pakistan Cooperation Fund; and people-to-people exchanges have deepened. Yet, it is distinctly felt on both sides that a vast potential still remains to be tapped.
For its part, Pakistan remains resolved to upscale its overall engagement with ASEAN members, at both bilateral and institutional levels. There are myriads avenues through which to enhance the hard and soft connectivity between the two sides. Exploring the potential of RCEP and CPEC (China Pakistan Economic Corridor) is vitally important. Upgrading the relationship to the level of Full Dialogue Partnership (FDP) continues to be a distinct objective for Pakistan.
It is hoped that the researchers, academics and policy-makers present here would pursue these thoughts on a priority basis. It is further hoped that the "ASEAN Corner" will make a useful contribution in generating ideas and suggesting pathways for an elevated Pakistan-ASEAN partnership, which is in the mutual benefit of both sides.
With these remarks, I once again welcome all the distinguished participants and wish a long, healthy and vibrant life for the "ASEAN Corner" at ISSI.
Thank you!