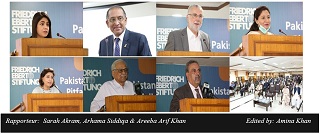 The Institute of Strategic Studies Islamabad (ISSI) and Friedrich-Ebert-Stiftung (FES), Pakistan organised a Book Launch on 'Pakistan-Afghanistan Relations: Pitfalls and the Way Forward,' authored by Dr Huma Baqai, Associate Professor Social Sciences, IBA Karachi and Dr Nausheen Wasi, Assistant Professor, Department of International Relations, University of Karachi. Other distinguished speakers included, Dr. Jochen Hippler, Country Director FES, Ambassador Retd. Asif Ali Khan Durrani, Senior Research Fellow, IPRI. Mr. Zahid Hussain, freelance journalist and Ambassador Retd. Qazi Humayun.
The event was moderated by Ms. Amina Khan, Director Centre for Afghanistan, Middle East & Africa (CAMEA) at ISSI, who was of the opinion that the book is timely and relevant contribution. She said that book explores the various aspects of the Pak-Afghan relationship as it brings forth thirteen diverse perspectives from experts across the border.
During his welcome remarks, Director General ISSI, Ambassador Aizaz Ahmad Chaudhry appreciated the work FES has done in Pakistan. He said that the political landscape in Afghanistan has changed and Afghans as well as the neighbours of Afghanistan are yearning for peace and stability. The postulate that there can be no military solution in Afghanistan still holds. He said that there is a firm consensus that an inclusive set-up needs to be in place for sustained peace in Afghanistan. He said that Counter Terrorism is an area of crucial importance not only for the US but all neighbours of Afghanistan. Furthermore, he stated that for Pakistan in particular, there needs to be an assurance from the Taliban about the TTP that they will not be given space to operate from Afghanistan.  He further said that the Taliban need to be aware that regional stability can bring in huge benefits. Afghanistan is truly the heart of Asia and can be the lynchpin for connectivity in the region. He remarked that the approach the US is presently taking might create huge instability in Afghanistan and if the Americans have their way, the Taliban government might collapse and Afghanistan will revert back to pre-2001. He said that the region has to play a collective role particularly in terms of humanitarian, technical and financial assistance.