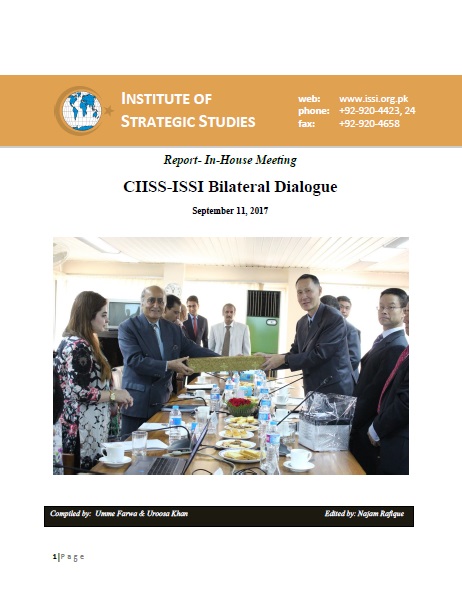 The Institute of Strategic Studies, Islamabad (ISSI) hosted a bilateral dialogue with a 5-member Chinese delegation from China Institute of International Strategic Studies (CIISS) on September 11, 2017. The dialogue is part of annual interaction between the two institutes.
The members of the Chinese delegation  included Major General (Retd) Zhao Ning, Vice Chairman of CIISS and former Defense Attache to Australia and the US; Major General (Retd) Li Mengyan, Senior Advisor of CISS  and former Defense Attache to Pakistan; Sr. Col (Retd) Jing Chunlu, Senior Research Fellow CIISS; Mr. Li Zuyang, Assistant Research Fellow CIISS;  and Mr. Dou Erli, Assistant Research Fellow CIISS.
Major General Chen Wenrong, Military Air and Naval Attaché of China to Pakistan, Sr. Col. Jiang Qingshi, Deputy Military, Naval and Air Force Attache, and Col. Zhang Wencheng also attended the dialogue.
Ambassador Khalid Mahmood, Chairman ISSI, welcomed the delegation and stated that both Pakistan and China have strong strategic and political ties, but these had been lacking in the economic field. He said that now, with the initiation of the China-Pakistan Economic Corridor (CPEC), economic ties have been given a boost as well. Ambassador Mahmood emphasized that Pakistan values its relationship with China, and jointly, both countries can cope up with challenges like terrorism and negative influence of some external threats.