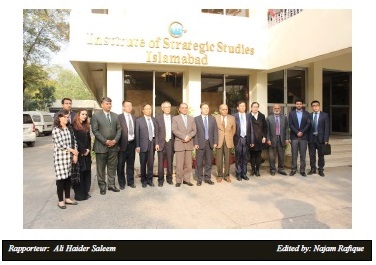 The Institute of Strategic Studies Islamabad (ISSI) held an In-House Meeting with a Chinese delegation from the Counselors' Office of the State Council (COSC) on December 6, 2018. The members of the delegation included: Mr. Zhang Yantong, Vice Chairman of the COSC; Mr. Zhang Ying, Chairman of the Counselors' Office of Yunnan Province; Mr. Li Yang, Division Chief of Department of International Exchanges and Cooperation of the COSC; Mr. He Maochun and Mr. Xiabin.
Welcoming the delegation, Director General ISSI Ambassador (Retd) Aizaz Ahmad Chaudhry introduced the members of ISSI participating in the meeting.
Mr. Zhang Yantong thanked Ambassador Aizaz for hosting them and said that it was truly an honor to be in Islamabad. Introducing the COSC, he stated that it acts as an advisory organization for the Chinese government and directly communicates with the Chinese Premier. He applauded the role played by ISSI in promoting the significance of China-Pakistan relationship. He added that the purpose of his visit was to enhance the engagement of the Counselor's Office with ISSI. This would help in improving their understanding of Pakistan and promote people to people contact.