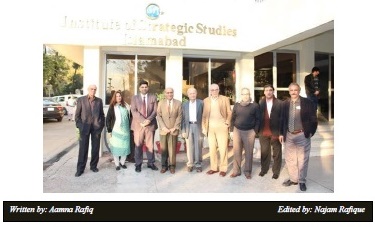 The Institute of Strategic Studies Islamabad (ISSI) organized an In-House Meeting with Mr. Wajid Khan, Member of the European Union (EU) Parliament from United Kingdom (UK) on December 18, 2017. Mr. Wajid Khan is a Member of the EU Parliament for the North West England European constituency since June 29, 2017 and a member of South Asia Committee.
In addition to the research faculty of ISSI, the group of intellectuals who attended the meeting included: Gen. (Retd.) Talat Masood; Ambassador Fauzia Nasreen, Head, Centre for Policy Studies, COMSATS; Gen. (Retd.) Asad Durrani; Ambassador Ashraf Jehangir Qazi; and Ambassador Ali Sarwar Naqvi, Executive Director, CISS.
Ambassador Khalid Mahmood, Chairman ISSI welcomed Mr. Wajid Khan and also expressed his gratitude to Mr. Wajid Khan for visiting the institute. He said that this meeting would be an interactive session to discuss the regional dynamics of South Asia and EU including the state of affairs in Afghanistan, Pakistan-India bilateral relations, Kashmir dispute, counter-terrorism initiatives by Pakistan, renewal of Pakistan`s GSP Plus status, Brexit, and China-Pakistan Economic Corridor (CPEC).