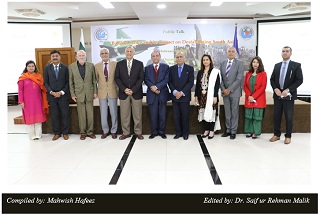 In order to commemorate Pakistan Air Force's victory over its Indian counterpart on February 27, 2019, The India Study Centre (ISC) at the Institute of Strategic Studies Islamabad (ISSI) organised an Public Talk titled "Balakot Strike and its Impact on Destabilizing South Asia" on February 28, 2022.
Welcoming the guests, Dr. Saif Malik, Director India Study Centre ISSI, said that it was a huge miscalculation on the part of India to think that there would be no response from Pakistan. To their surprise, Pakistan Air Force conducted six air strikes near Indian military installations in the region of Indian occupied Jammu and Kashmir, shot down two Indian fighter planes and captured a pilot. Thus, Pakistan busted the myth of Indian invincibility superiority. Since 2019, February 27 has become a day of national pride.
In his introductory remarks, Director General ISSI, Ambassador Aizaz Ahmad Chaudhry said that India was trying to create a new normal that it can engage in a conventional confrontation below the nuclear overhang. Similar claims of conducting surgical strikes were made in 2016 which in reality never happened. At that time, the Indians  were checking the waters . In 2019, when they actually conducted the surgical strike,  Pakistan was better prepared. Pakistan Air Force made us proud that day. Pakistan Air Force conducted the operation that was swift and magnanimous. By releasing the Indian pilot, Pakistan sent a message that there is no need to engage in confrontation.