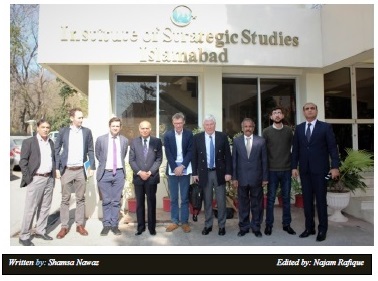 The Institute of Strategic Studies Islamabad (ISSI) hosted a four-member Media Delegation from UK on February 6, 2018. The delegation included: Mr. Patrick Wintour, foreign Editor, Guardian, Mr. Mathew Symond, Defense & Diplomatic Editor, The Economist, Mr. Freddy Gray, Deputy Editor, The Spectator and Mr. Roland Oliphant, Moscow Correspondent, Daily Telegraph.
The meeting was chaired by Ambassador Khalid Mahmood, Chairman ISSI. The interactive discussion mainly focused on China-Pakistan Economic Corridor (CPEC), growing US-India strategic relationship to balance China's influence and its implications for Pakistan, and Pakistan's nuclear program. Peace in Afghanistan and the mounting presence and threat of Daesh in Afghanistan were also extensively covered.
Ambassador Mahmood briefed the visiting delegates on the emerging geo-political and geo-strategic situation in the region following the changing dynamics due to paradigm shift and new alignments. These, he said, have particular implications for Pakistan. The enhanced Indian role and the thrust of US strategies emphasized on China and India, which has emboldened Modi's Hindutva policies while making security issues even more detrimental in Indo-Pak relations. The resurgence of violence in Indian Occupied Kashmir is an evident consequence. He referred to the Indo-US nuclear deal and the latter's support to India for its entrance in the Nuclear Suppliers Group (NSG) as unjustifiable. On the other hand, US has picked up Japan for its Pacific policy which is deliberate, however, certainly not well-advised. This, Ambassador Mahmood said, generates coercion and not cooperation.