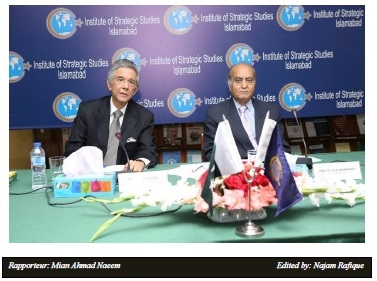 The Institute of Strategic Studies Islamabad (ISSI) organized a Public Talk titled, "Resolving Pakistan's Energy Dilemma: Critical Staring Point and Role of CPEC" on April 18, 2019. Mr Ziad Alahdad, Former Director of Operations and Lead Energy Specialist, World Bank was the guest speaker at the occasion.
Welcoming the speaker and guests, Chairman BOG, ISSI Ambassador Khalid Mahmood, said that the topic is very important especially in the case of Pakistan which has gone through one of the worst energy crises in its history. The shortfall of energy in domestic and commercial sectors has become an obstacle for social and economic development in the country. He said that with an average shortfall in the power sector of around 4,000 MW and nearly 2 billion cubic feet per day (BCFD) in the natural gas sector, the chronic power shortages, in the form of load-shedding and power outages has cost billions of rupees to Pakistan's economy every year.
The fluctuating oil prices in the international market, higher cost due to gradual phasing out of subsidy and the circular debt problem have also exacerbated the country's power supply deficit. GoP is taking diverse measures to circumvent this crisis. These efforts include: expansion and refurbishment of the existing power plants; induction of new power plants ─ mainly under the China-Pakistan Economic Corridor (CPEC); encouragement of renewable energy; and acquisition of power from captive power plants.