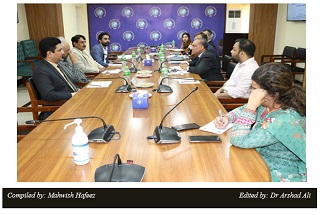 The India Study Centre (ISC) at the Institute of Strategic Studies Islamabad (ISSI) organised a roundtable discussion titled "South Asia: Peaceful Coexistence Through Economic Cooperation" on September 27, 2022. The idea behind organising this event was to explore avenues of cooperation between regional countries.
Ambassador Riaz Mohammad Khan was the keynote speaker at the event whereas; Mr Hussnain Shah, Pakistan Agriculture Research Council (PARC), Mr. Saddam Hussein, PIDE, Islamabad and Muhammad Rizwan Manzoor, Assistant Director (Research), PIPS, Islamabad participated as discussants. Mr. Muhammad Ali Baig, Research Associate (ISSI) and Syed Kasim Masood, Research Associate (ISSI) also expressed their views and ideas during the discussion.
In his introductory remarks, Director India Study Centre Dr. Arshad Ali said that non-traditional security issues are looming over South Asia such as climate change, food security, and water security etc. The natural calamity is threatening food supply and water resources. As these issues are transnational, therefore, there is a need to adopt a cohesive regional approach to tackle them. A collaborative approach can allow regional countries to focus on technological exchange and resource management.