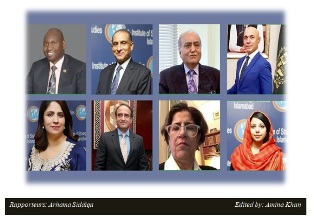 The Centre for Middle East & Africa (CMEA) at the Institute of Strategic Studies Islamabad (ISSI) hosted a WebCelebration to commemorate Africa Day on May 20, 2020. The celebrations were held in advance because Africa Day (May 25) will be during Eid break this year.
The Keynote address was given by H.E. Prof. Julius Kibet Bitok, High Commissioner of the Republic of Kenya & Dean of African Countries' Ambassadors in Pakistan, while the Chief Guest on the occasion was Mr. Ali Javed, Additional Secretary Africa, Ministry of Foreign Affairs Pakistan. Other speakers included Ambassador Imran Yawer, Former Ambassador to the Federal Democratic Republic of Ethiopia, Algeria and Permanent Representative to the African Union (AU) and Dr Rukhsana Siddiqui, Former HoD, IR Department, Quaid-e-Azam University, Islamabad & African Expert.
The webinar was moderated by Ms. Amina Khan, Director CMEA, ISSI.
Introducing the subject of the webinar, Ms. Amina Khan said that today we celebrate not only a special day for Africa but also for our newly established Centre since it is our first event. This especially indicates the great importance that Pakistan attaches to its relationship with Africa. 'Africa Day' is a day of commemoration, of celebration and of unwavering determination of the people of the African continent who fought courageously for their freedom. Pakistan's relations with Africa are steeped in a history of common challenges. It is due to these deep-rooted ties that we have decided to observe this day; the 'Africa Day' to remember our mutual ties, to celebrate our history, to pay homage to the sacrifices of both our forefathers and to look towards a prosperous future partnership.