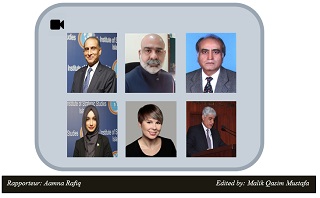 The Arms Control and Disarmament Centre (ACDC) at the Institute of Strategic Studies Islamabad (ISSI) hosted a webinar on "Lethal Autonomous Weapons Systems (LAWS) and State Behaviour: Global and Regional Implications" on April 7, 2021. The webinar was attended by various distinguished national and international experts and moderated by Malik Qasim Mustafa, Director ACDC-ISSI.
While welcoming the guests, Ambassador Aizaz Ahmad Chaudhry, Director General ISSI, said that the development of LAWS is fast outpacing the speed of the international negotiation process while states are extremely divided on various aspects of LAWS. He opined that instead of relying on the development of an international regulatory framework, states should explore the options of bilateral and regional arms control diplomacy in the realm of LAWS.
While referring to the outcomes of the recent webinar on "Emerging Technologies for Sustainable Development: Exploring New Opportunities" organised by ACDC in his introductory remarks, Malik Qasim Mustafa, Director ACDC-ISSI, said that there was a consensus that emerging technologies are providing people with endless opportunities to transform their future. However, these dual-use emerging technologies are also transforming the future of warfare like the development of LAWS or commonly known as "Killer Robots. It is a special class of weapon systems that engages and destroys targets without manual human control.