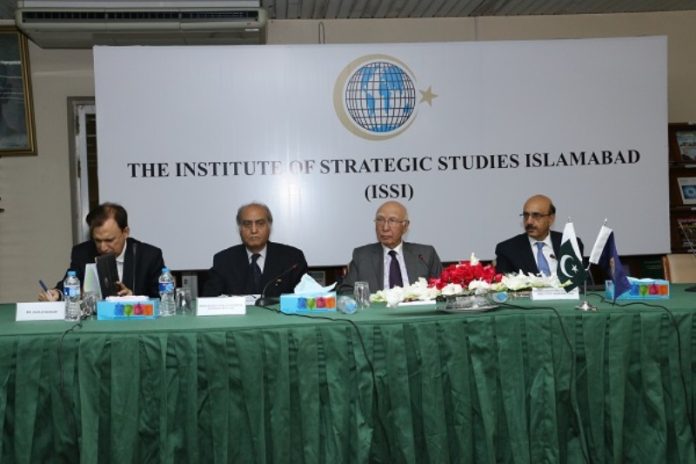 Press Release
The Institute of Strategic Studies, Islamabad (ISSI) organized a seminar on "Pakistan's Non-Proliferation Efforts and Strategic Export Control System" on May 3, 2016. Ambassador Masood Khan, Director General, ISSI opened the event with his welcome remarks. He said that Pakistan is a legitimate nuclear power. Before 1974, it had tried its best to de-nuclearise South Asia, but Pakistan's overtures were not reciprocated by India or by the international community. Pakistan developed its nuclear capability, perforce, because of the peculiar security situation prevalent in South Asia. After conducting its nuclear test in 1998 and acquiring ballistic and cruise missile capabilities, Pakistan established a stringent command andcontrol system. The other two thresholds crossed by Pakistan were passage of Pakistan Export Control Act of 2004 and notification of revised export control lists and in 2015, these revised lists cover the scope of Nuclear Suppliers Group (NSG), Missile Technology Control Regime (MTCR) and the Australia Group (AG). Pakistan, he said, fully qualifies to become the member of the NSG.
The chief guest, honourable Mr. Sartaj Aziz, Advisor to the Prime Minister on Foreign Affairs, said that as a responsible nuclear state, Pakistan remains fully committed to the objectives of non-proliferation and disarmament. Pakistan is a state party to various international instruments including the Convention on the Physical Protection of Nuclear Material (CPPNM), IAEA Code of Conduct on Safety and Security of Radioactive Sources, and participates in the IAEA Incident and Trafficking Database (ITDB). It also actively participates in the Global Initiative to Combat Nuclear Terrorism (GICNT) and regularly submits reports to the UN Security Council 1540 Committee. He further highlighted that over the years, Pakistan has streamlined and strengthened its export control regime and enhanced its engagement with multilateral export control regimes.
Talking about South Asia's strategic stability, Mr. Aziz, said that the Indo-US civil nuclear deal and the subsequent discriminatory waiver granted to India by the NSG have allowed India to exponentially increase its fissile material stocks. The introduction of nuclear submarines, development of Anti-Ballistic Missile system and massive acquisition of conventional weapons, prompt offensive inclinations manifested in doctrines such as the "Cold Start" and "Proactive Operations" pose a serious threat to regional stability.
Outlining the future course of policy actions, Mr. Aziz said that Pakistan's focus on nuclear security should further enhance international cooperation in peaceful applications of nuclear technology.The policy of international community towards nuclear mainstreaming of any state should be based on uniform criteria rather than a country specific approach. Pakistan has strong credentials to become a member of the NSG and other multilateral export control regimes, on non-discriminatory basis.
The keynote speaker, Mr. Zafar Ali, Director General, Strategic Export Control Division (SECDIV), Ministry of Foreign Affairs (MOFA) provided an overview of Pakistan's Strategic Export Control System. He said that a key element in establishing export control system is the Export Control Act (2004), which enables the Government to control export, re-export, transhipment, transit of goods, technologies, material and equipment that may contribute to the designing, development, production, stockpiling, maintenance or use of nuclear and biological weapons and their delivery systems.
Air Cdre. Khalid Banuri, Director General, Arms Control and Disarmament Affairs (ACDA), Strategic Plans Division (SPD) especially highlighted the role of the Pakistan Nuclear Regulatory Authority (PNRA) in ensuring the nuclear safety, and as an example worth emulating, one that has been lauded by the IAEA. Pakistan has invested heavily in nuclear safety and security in the last decade or so. He said that over 25000 well trained personnel are working round the clock to ensure the security of Pakistan's nuclear assets. He lauded Pakistan's level of confidence in its nuclear safety and security.
Ambassador Tariq Osman Hyder, emphasized that the next step in non-proliferation efforts is to campaign more vigorously and effectively for Pakistan's inclusion in multilateral export control regimes like the NSG, MTCR, and the AG. This way Pakistan can contribute more meaningfully to the global non-proliferation regime as a full partner. Air Cdre Adil Sultan, Director, PDS, SPD emphasized the US efforts to build-up India as a regional power, which are detrimental to stability in South Asia. As India's nuclear cooperation with US and other Western states is increasing, it is becoming more dismissive of Pakistan's proposals for strategic restraint.
Mr. Faizan Mansoor, Member (Executive) PNRA highlighted major safety and security aspects of regulating radioactive sources in the country. He said that PNRA regulatory framework is in line with international standards to ensure safety and security of radioactive sources. Brig. Zahir Kazmi, Director, ACDA, SPD focused on the discriminatory international norms that strain not only the nuclear security regime, but also the nuclear order. He further said that Pakistan is the object of a nuclear apartheid whereby biased nuclear haves make it fight the odds of norms while aiding and abetting an old proliferator like India for geopolitical and geo-economic reasons. Mr. Muhammad Kamran Akhtar, DG, Disarmament-P, MOFA highlighted Pakistan's engagement with the non-proliferation regimes. He emphasised that Pakistan meets all standards and criteria for becoming part of export control regimes like the NSG, MTCR, and AG. He further said that Pakistan has much better non-proliferation credentials than India.
Ambassador Khalid Mahmood, in his concluding remarks highlighted Pakistan's non-proliferation efforts and its strategic export control system. He further said that Pakistan is responsible nuclear state and it should be given access to the NSG without any discrimination.
Ambassador Masood Khan, DG, ISSI in his closing remarks said that Pakistan had established its credentials as a responsible nuclear weapon state, beyond the shadow of doubt. But because of the 'Realpolitik' or 'USpolitik,' India is getting special treatment. This promotes exceptionalism and discrimination and hurts Pakistan. He further said that Pakistan's case for equal treatment is strong, but in addition to Foreign Office and governmental organisations, Pakistan's civil society, media and think-tanks should synergise their efforts to get rightful dispensation for Pakistan. He said that Pakistan's nuclear programme would continue to remain credible and symmetric to the threats in its immediate neighbourhood. It is therefore important that Pakistan's nuclear programme continues to be refined quantitatively and qualitatively. It is evident that Pakistan accepts no conditions to curb or curtail its nuclear capability required for its national defence.
Malik Qasim Mustafa, Ghazala Yasmin and Ahmed Saffee/ 03052016