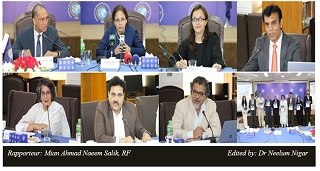 The Centre for Strategic Perspectives (CSP) at the Institute of Strategic Studies Islamabad (ISSI) held a launch of its Special Report titled, "Economic Security of Pakistan: Challenges and Way Forward," on August 22, 2022. The Chief Guest of the event was Dr Aisha Ghaus Pasha, Minister of State for Finance and Revenue. Other panellists included: Dr Abid Q. Suleri, Executive Director, SDPI; Ambassador Seema Ilahi Baloch; Mr. Zafar ul Hasan, Joint Chief Economist, Ministry of Planning, Development and Reforms; and Mr. Amir Zafar Durrani, President, Reenergia.
Dr Neelum Nigar, Director CSP, gave a presentation on the report and the discussion was moderated by Director General ISSI, Ambassador Aizaz Ahmad Chaudhry. The salient features are given below as discussed by each speaker.
Key points highlighted by the Chief Guest, Dr. Aisha Pasha
In today's world, a nation cannot ensure national security until and unless it ensures human security; the nexus between national security, social security, and economic security feeds into one another, one ensures the other and this is a virtuous cycle.
In order to achieve economic and human security, it is important to have external financial viability.