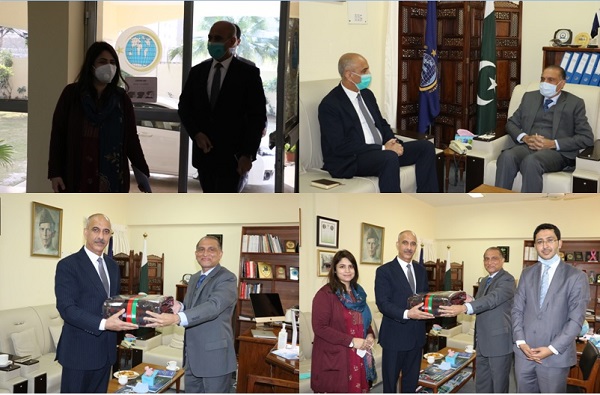 Press Release
Institute of Strategic Studies Islamabad (ISSI)
Visit of H.E. Najibullah Alikhil, Ambassador of Islamic Republic of Afghanistan to Pakistan
January 18, 2021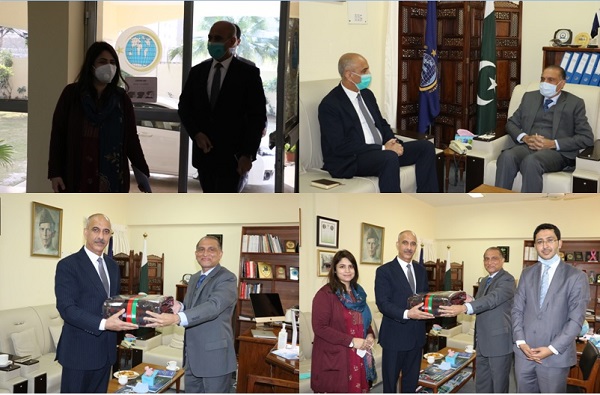 Institute of Strategic Studies Islamabad (ISSI) hosted the Honorable Ambassador of the Islamic Republic of Afghanistan to Pakistan, H.E. Najibullah Alikhil today. His Excellency met Ambassador Aizaz Ahmad Chaudhry, Director General ISSI and Ms. Amina Khan, Director Centre for Middle East and Africa (CMEA) who also focuses on Afghanistan.
Welcoming the Ambassador to ISSI, Ambassador Chaudhry assured him of the Institute's support in deepening Pak-Afghan bilateral ties particularly in the field of research.
Ambassador Alikhil appreciated the work being done at the Institute under the leadership of DG ISSI, Ambassador Aizaz Ahmed Chaudhry. During the meeting Pak-Afghan ties, the peace process, academic collaboration and further avenues for strengthening the bilateral relationship were discussed. Ambassador Alikhil acknowledged Pakistan's constructive role in the on-going peace process and looked forward to establishing a well-rounded and robust relationship between the two countries. Both sides pledged continued exchanges and collaboration in future.