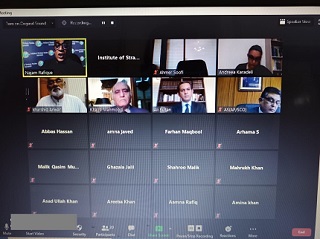 Press Release
Webinar
Illegal Use of Pellet Guns in Indian Occupied Jammu and Kashmir
Institute of Strategic Studies Islamabad
June 26, 2020
The Institute of Strategic Studies Islamabad (ISSI) organized a Webinar on Illegal Use of Pellet Guns in Indian Occupied Jammu and Kashmir on June 26, 2020 to mark the International Day in Support of the Victims of Torture. The webinar brought together distinguished speakers and legal experts on the issue. Ambassador Zahoor Ahmad, Additional Secretary (Asia-Pacific), Ministry of Foreign Affairs was the Chief Guest at the occasion. The panellists included: Mr. Ahmer Bilal Soofi, President, Research Society of International Law (RSIL) and former federal Minister for Law and Justice, Parliamentary Affairs and Human Rights, Barrister Ali Sultan, Vice-President, RSIL and Dr. Andreea StoianKaradeli, an independent expert, on Human Rights and national security, Istanbul.
In his introductory remarks, Mr. Najam Rafique, Director Research ISSI welcomed the guests and highlighted the fact that Indian brutality in Kashmir is not a new phenomenon but a new dimension has been added to it with the use of pellet guns. Thousands of Kashmiris have been blinded by the increasing use of these guns which has left severe psychological trauma among the Kashmiris in Indian occupied Jammu and Kashmir. It is also notable that such weapons are not used anywhere else in India but only in Kashmir. He said that it is encouraging that the use of the pellet guns by Indian armed forces has not gone unnoticed and there have been concerns raised by the United Nations Secretary General, the Office of the United Nations High Commissioner for Human Rights (OHCHR), and Amnesty International on this issue, and who have called upon New Delhi to immediately end such practices.
Ambassador Zahoor Ahmed congratulated ISSI for holding the webinar on this important subject and that this timely event should serve as a wakeup call for the global conscience. He endorsed that fact that the Government of Pakistan condemns the use of pellet guns and stands with the people of Kashmir for their right to self-determination. Mentioning the use of pellet guns, he said that pellet guns are not used anywhere else in the world except in Kashmir so it is clear that this weapon is being used as a tool of torture by India to strangle the voice of the Kashmiris. Despite international condemnation, Indian government has not stopped the use of pellet guns to control crowds in the Valley.
Mr. Ahmer Bilal Soofi recommended that Pakistan must register its complaint with the manufacturers and patent holders of the pellet guns and urge the international community to ban such weapons which are in violation of International Human Rights and Humanitarian Laws. He was of the view that even animals have basic rights and are not subject to torture, but India is reluctant to give basic human rights to the citizens of Kashmir. This reluctance from Indian side is strengthening the commitment of Kashmiri people with their cause.
Barrister Ali Sultan was of the view that internationally, the lawyers agree that the use of pellet guns is totally illegal in nature. According to international procedures and customary law, the injuries caused by these guns are against humanitarian laws. He suggested that there should be an internal accountability mechanism in India on the use of these guns. However, especially designed laws for Indian armed forces in Indian occupied Jammu and Kashmir give them protection against the use of such weapons with impunity. This blanket of immunity for Indian soldiers must be stopped. He also pointed out that domestic voices raised in India are suppressed by the rising tide of Hindutva ideology, and more sustained efforts are needed to counter the Indian actions.
Dr. Andreea StoianKaradeli explained the technicalities involved in the use of pellet guns in her presentation. She said that there is a dire need for creating awareness on this particular issue because killing a single person is killing the whole humanity. She also stressed on the fact that under the umbrella of diplomacy, greater international pressure is required from international community which must be beyond mere passing of resolutions on international forums.
Concluding the webinar, Ambassador Khalid Mahmood, Chairman BOG, ISSI said that as the world is observing the UN International Day in Support of Victims of Torture, the Kashmiris in Indian occupied Jammu and Kashmir are faced with a situation where torture has become an inescapable part of their lives. Mentioning the tactics of rape and torture along with several draconian laws, he said India will not be able to weaken the will of the Kashmiri people. He further added that it is time that the world take notice of the situation in Indian occupied Kashmir and take concrete steps instead of lip service to resolve this issue according to the wishes of Kashmiri people and put an end to the suffering of the Kashmir people.