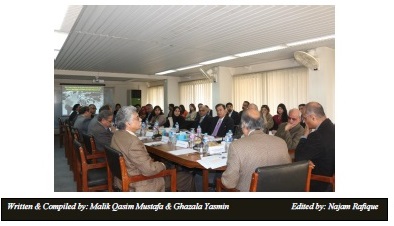 The Institute of Strategic Studies Islamabad (ISSI) held an interactive In-House Discussion with Dr. Zia Mian on February 13, 2017 on "The Challenges of Global Nuclear Weapon and Fissile Material Stockpile and Production". Dr. Mian is Co-Director, Programme on Science and Global Security, Princeton University, US and also Co-chair of the International Panel on Fissile Materials (IPFM).
The meeting was attended by a distinguished panel of nuclear experts from academia, think tanks and organizations in Islamabad.
The Chairman ISSI, Ambassador Khalid Mahmood welcomed the distinguished speaker and thanks the esteemed guests for participating in the event. He said that nuclear weapons and materials have multiple dimensions – there is the question of their production; the threat it poses to the environment; safety and security issues; its peaceful uses; and issues of non-proliferation and disarmament. He said that since such a distinguished person like Dr. Zia Main is the speaker, it would be a pleasure to listen to his views on the topic.