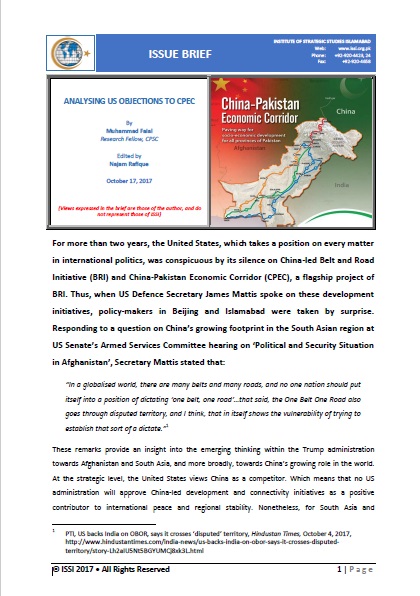 For more than two years, the United States, which takes a position on every matter in international politics, was conspicuous by its silence on China-led Belt and Road Initiative (BRI) and China-Pakistan Economic Corridor (CPEC), a flagship project of BRI. Thus, when US Defence Secretary James Mattis spoke on these development initiatives, policy-makers in Beijing and Islamabad were taken by surprise. Responding to a question on China's growing footprint in the South Asian region at US Senate's Armed Services Committee hearing on 'Political and Security Situation in Afghanistan', Secretary Mattis stated that:
"In a globalised world, there are many belts and many roads, and no one nation should put itself into a position of dictating 'one belt, one road'…that said, the One Belt One Road also goes through disputed territory, and I think, that in itself shows the vulnerability of trying to establish that sort of a dictate."[1]
These remarks provide an insight into the emerging thinking within the Trump administration towards Afghanistan and South Asia, and more broadly, towards China's growing role in the world. At the strategic level, the United States views China as a competitor. Which means that no US administration will approve China-led development and connectivity initiatives as a positive contributor to international peace and regional stability. Nonetheless, for South Asia and Afghanistan, US-China consultation have been an important element of international efforts to stabilise the region.