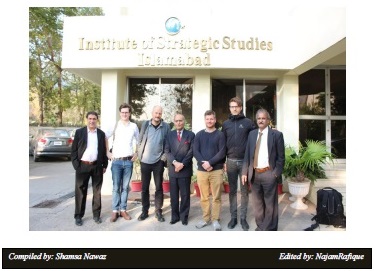 The Institute of Strategic Studies, Islamabad (ISSI) hosted a five-member media delegation from the Federal Republic of Germany, on December 6, 2017. The delegation included Sven Hansen, Tax/Die Tageszeitung, Philip Breu, Freelance, Florian Neuhof, Freelance, Philipp Katzer, Freelance and Simon Schneller of Bayerischer Rundfunk.
Ambassador Khalid Mahmood, Chairman Board of Governors, welcomed the delegation.  He acknowledged the German's popularity with the people of Pakistan mainly due to its resilient economic success and impressive development after World War II, whereby it is now the fourth largest economy of the world. Ambassador Mahmood said that though the relations between the two countries have been cordial since 1961, yet there has been limited people to people contact and media interaction.
The trade between Germany and Pakistan has also seen a persistent growth, particularly after the GSP+ status to whose requirements Pakistan has complied religiously. Pakistan has instituted a mechanism to conform to the 27 Conventions under the GSP+. Pakistan's cooperation in countering terrorism has been the most outstanding. It has faced a loss of more than 80,000 lives and borne immense financial loss.