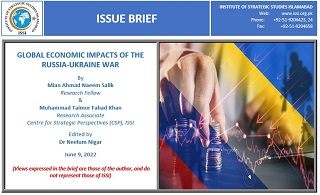 The Russia-Ukraine war that commenced on February 24, 2022, came at a time when the world was battling the scourge of the COVID-19 pandemic along with the threats ofclimate change affecting the lives and livelihoods of people around the globe. However, this conflict reinforced the significance of traditional security challenges that still govern world affairs and are at the heart of states' decision-making.
Besides the immense human-suffering that is being caused due to the ongoing hostilities between Russia and Ukraine (the biggest conflict in Europe since the end of World War 2), this conflict has adversely affected global trade, disrupted international supply chains, increased commodity prices and caused serious implications for economic and food security of small states.
According to the Economist Intelligence Unit (EIU) Global Forecast, the downgrading to European economic growth in 2022 (3.7%) will adversely impact the global economic growth as well which is now estimated at 3.4%.[1]    The EIU report further identifies that the ongoing  war continues to impact the global economy through 3 channels namely: financial sanctions, commodities prices and supply-chain disruptions.[2]