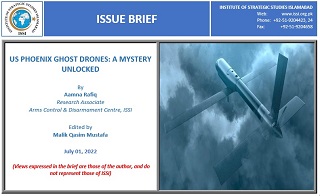 Recently, the Biden administration announced the new US$800 million military aid package for Ukraine. According to the Pentagon's official statement,[1] this aid includes 72 155mm Howitzers and an equal number of tactical vehicles along with the 144,000 ammunition, field equipment and spare parts. These components of military aid are well known and much anticipated. However, the surprising and never seen before component is the mysterious unmanned aerial weapon system or drone – the Phoenix Ghost.
What is Phoenix Ghost?
Phoenix Ghost is a one-way single-use unmanned aerial weapon system that falls under the category of loitering munition, famously known as the suicide drones or kamikaze drones. With the six-plus hour's flight time, this potentially dangerous machine can also search or track the target even without any specific order or command from the operator.[2] Without getting into any technical specification, the Pentagon's spokesperson, John F Kirby, reiterated in his press briefing that "Phoenix is designed primarily – but not exclusively to attack. It can also be used to give you a sight picture of what it's seeing, of course."[3] The longer loitering capability gives it an edge over the existing "Switchblade" – a US kamikaze drone with a flight duration of approximately an hour. Its larger size as compared to the small version of Switchblade makes it difficult to be carried by the soldier on the ground. However, with the capability of vertical take-off and infrared sensors for night vision, Phoenix is highly effective against the medium armoured ground targets, especially main battle tanks and armoured personnel carriers. These lightweight, disposable and uncomplicated drones are easy to use and do not require specialised and extensive training. Delivered in a case, Phoenix will be ready for use immediately after unpacking. Despite its large size, it does not leave any logistic footprint and does not require maintenance services. The Pentagon has not yet disclosed further technical specifications like range and destructive capability.[4]