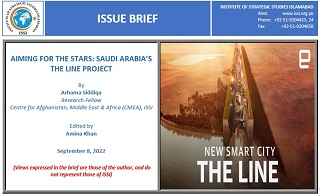 Mohammed bin Salman (MBS), the crown prince of the Kingdom of Saudi Arabia (KSA) recently unveiled plans for 'The Line', a linear city part of the futuristic NEOM project, an integral part of Saudi Arabia's Vision 2030. It has been called the "civilizational revolution" that will challenge "traditional horizontal cities."[1] About 100 miles in length and one-eighth of a mile wide, the walled city would form the "infrastructure spine" of a wider megapolis, known as Neom, planned for northwestern KSA. MBS first unveiled his idea for a linear city during a national broadcast in January 2021. Most of NEOM is meant to be completed by 2025, as per the timeline set by Saudi Vision 2030, the crown prince's ambitious plan to wean the Saudi economy off of oil by the end of this decade.
What is The Line project?
The Line is a proposed one-building city that will stretch for 170km and consists of tall mirrored skyscrapers. Its residents will use a high-speed train that travels between the two ends of the city in 20 minutes, and within five minutes they will have access to all city facilities and services. The Line will be located near the Red Sea, spanning 34 square kilometres and with a capacity to host 9 million people. Despite its vast length, the proposed width of the linear city is just 200 metres, with the height of its skyscrapers reaching 500 metres and latest urban construction technologies will be used to create a hydrocarbon-free economic zone. The aim is that the Kingdom will be able to attract foreign investment and international corporations, increasing Riyadh's non-oil-generated wealth. As on August 2022, Chinese contracting firm Power China has started work on the Line towers.