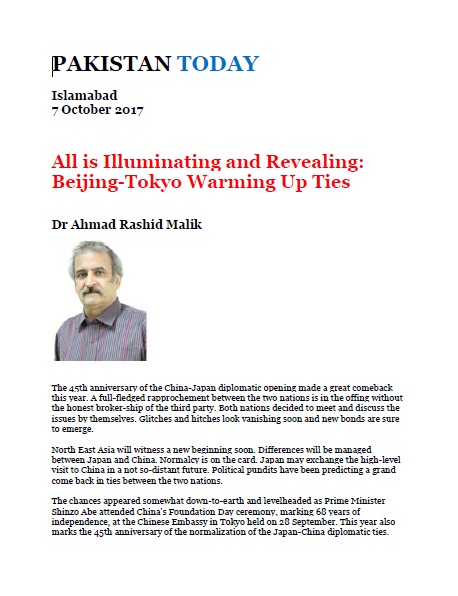 The 45th anniversary of the China-Japan diplomatic opening made a great comeback this year. A full-fledged rapprochement between the two nations is in the offing without the honest broker-ship of the third party. Both nations decided to meet and discuss the issues by themselves. Glitches and hitches look vanishing soon and new bonds are sure to emerge.
North East Asia will witness a new beginning soon. Differences will be managed between Japan and China. Normalcy is on the card. Japan may exchange the high-level visit to China in a not so-distant future. Political pundits have been predicting a grand come back in ties between the two nations.
The chances appeared somewhat down-to-earth and levelheaded as Prime Minister Shinzo Abe attended China's Foundation Day ceremony, marking 68 years of independence, at the Chinese Embassy in Tokyo held on 28 September. This year also marks the 45th anniversary of the normalization of the Japan-China diplomatic ties.