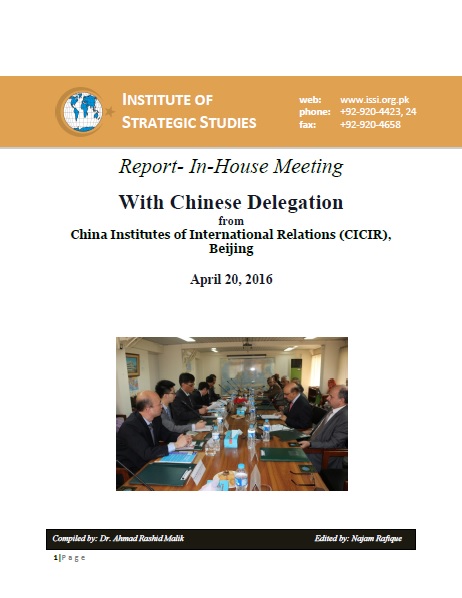 The Institute of Strategic Studies Islamabad (ISSI) held an In-House discussion on April 20, 2016 with a five-member delegation from the China Institutes of International Relations (CICIR), Beijing. The delegation was led by Mr. Fu Mengzi, Vice President of the CICIR. Other members of the delegation included: Mr. Ni Jianjun; Mr. Wang Shida; Mr. Zhang Xinbo; and Lin Yiming.
Other guest at the meeting included: Mr Khalid Rehman, DG, Institute of Policy Studies, Islamabad, Brig (Retd.) Maqsood ul Hasan, Dean of Management Sciences, National University of Modern Languages (NUML), Islamabad, Air Marshal (Retd.) Farhat Hussain Khan, Air Vice Marshal (Retd.) Faaiz Amir, Vice Chancellor, Air University, Islamabad, and Dr Azhar Ahmad of Bahria University, Islamabad.
Ambassador Masood Khan, Director General ISSI, warmly welcomed the delegation and said that CICIR is a leading think tank of China. He reminded Mr. Fu Mengzi of the visit to ISSI by a CICIR delegation in 2015, and said that the delegation had a very rewarding interaction with other institutes and organisations during this visit. He emphasised Pakistan's deep-rooted ties with China, and said that these relations are very strong and robust.