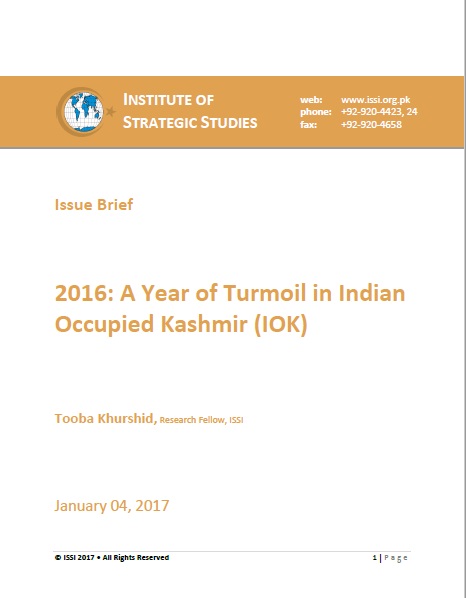 2016 ended with a violent note in Kashmir with martyrdom of 8 Kashmiris in December only. Curfews, information blackout and human rights violations marked by the barbaric use of pellet guns and extrajudicial arrests were the major trends in Indian Occupied Kashmir (IOK) during 2016.
The year 2016 began in the backdrop of glowing tributes paid to the youth martyred in Pulwama followed by mysterious killing of Owais Bashir Malik, a 21-year old on January 13. Anger in IOK further brewed with controversial issues of Sainak colonies and Industrial policy. This led a widespread condemnation from all quarters.
These issues were yet to settle down when IOK faced martyrdom of, Burhan Muzaffar Wani, again a 21-year old freedom fighter along with his two associates on July 8. The Valley witnessed fierce anti-India demonstrations. Authorities imposed curfew across IOK, shut down mobile and internet services, banned newspapers for many days and took several news channels off air in an attempt to end the street protests, but, the demonstrations continued. All Parties Hurriyat Conference (APHC) issued weekly protest calendars.