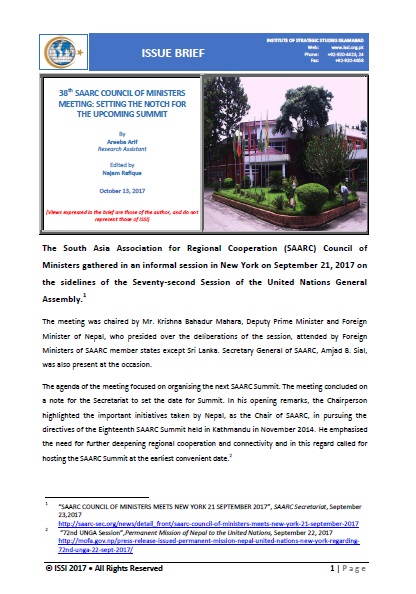 The South Asia Association for Regional Cooperation (SAARC) Council of Ministers gathered in an informal session in New York on September 21, 2017 on the sidelines of the Seventy-second Session of the United Nations General Assembly.[1]
The meeting was chaired by Mr. Krishna Bahadur Mahara, Deputy Prime Minister and Foreign Minister of Nepal, who presided over the deliberations of the session, attended by Foreign Ministers of SAARC member states except Sri Lanka. Secretary General of SAARC, Amjad B. Sial, was also present at the occasion.
The agenda of the meeting focused on organising the next SAARC Summit. The meeting concluded on a note for the Secretariat to set the date for Summit. In his opening remarks, the Chairperson highlighted the important initiatives taken by Nepal, as the Chair of SAARC, in pursuing the directives of the Eighteenth SAARC Summit held in Kathmandu in November 2014. He emphasised the need for further deepening regional cooperation and connectivity and in this regard called for hosting the SAARC Summit at the earliest convenient date.[2]