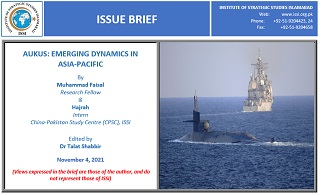 In mid-September 2021, Australia, the United Kingdom (UK) and the United States (US), announced a new 'trilateral security arrangement', termed AUKUS, focusing on Asia-Pacific region to offset growing prowess of China. The first project under AUKUS will focus on delivering eight nuclear-powered submarines to Australia. This initiative has the potential to alter the regional balance, reshape order, and even trigger a military conflagration (both intended or unintended).
AUKUS: Scope and Strategy
AUKUS brings together old treaty allies ­that share historical and cultural linkages. In its entirety it will encompass wide-ranging diplomatic, military and security cooperation in the Indo-Pacific region. It will include collaboration between three countries in the areas of artificial intelligence, cyber, quantum technologies, and undersea capabilities including underwater sensors and drones.[1] It is aimed at giving the US and its allies in the Indo-Pacific region a qualitative technological edge as competition with China escalates.