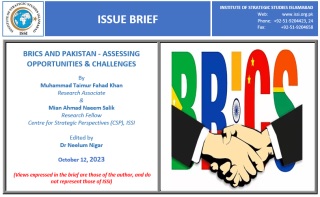 In the age of intensifying bloc politics and increasing fluidity in contemporary international affairs, the XV BRICS Summit in Johannesburg, held on August 22-24, 2023,was a surprisingly successful event, despite all the negative assessments and critical analyses coming out from various media, policy and academic circles predicting a confused, divided, and unfavourable outcome of the event.
The XV BRICS Summit was able to achieve an across-the-board consensus on two major agenda points (among others) of the Summit: a) positive movement of member states towards the use of national currencies in trade and financial transactions among group members and with other nations of the 'Global South'; and b) agreement on the expansion of the group into a broader platform by inviting new member states into BRICS.
Evolution of BRICS:
BRICS is an informal grouping of emerging economies. It is a denotative acronym of its founding/ core member states namely, Brazil, Russia, India, China and South Africa. The acronym was first introduced by Jim O'Neill a British economist, in 2001.[1]