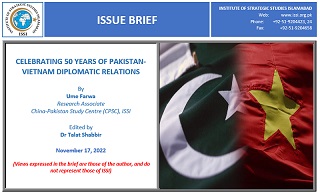 Introduction
2022 marks the 50th anniversary of diplomatic relations between Islamabad and Hanoi. The 50 years journey is dotted with mutual respect, understanding, and the vision for peace and security.
Vietnam and Islamabad established formal diplomatic ties in November 1972 and, since then, worked jointly to put in place various modes and modalities for moving their bilateral ties forwards. Ranging from diplomatic, socio-political, economic, and cultural issues, Pakistan and Vietnam have various processes of bilateral consultations.
High-level visits and interactions are one of the most effective ways to accelerate the processes of growth and development between two countries. In the same vein, Islamabad and Hanoi have been visiting each other at various state levels and reciprocating the exchanges. The then President of Pakistan, Pervez Musharaf paid a visit to Vietnam in May 2001[1], which was reciprocated by the President of Vietnam, Tran Duc Luong in March 2004.