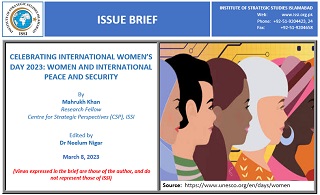 Women are among the worst sufferers of the impacts of war and conflict during and post conflict and stand as one of the most vulnerable strata in a society. However, women participation lacks on multiple counts during peace and conflict resolution processes–such as peace negotiations, relief and aid management, reconciliation and justice, disarmament, along with economic, political and social transformation. Women's participation in decisions related to international peace and security is essential to peace-building and post-conflict reconstruction. To materialize this realization, efforts were made to institutionalize the role of women in global peace and security matters while integrating gender equality concerns in post-conflict rehabilitation and reconstruction.
United Nations Security Council Resolution 1325
In 2000, the United Nations Security Council (UNSC) adopted Resolution 1325; the first time the international community formally recognized both the impact of conflict on women and the need to involve them as active agents in peace-building.[1]