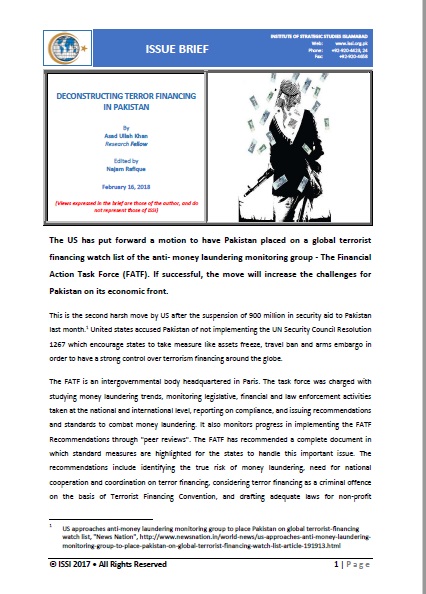 The US has put forward a motion to have Pakistan placed on a global terrorist financing watch list of the anti- money laundering monitoring group – The Financial Action Task Force (FATF). If successful, the move will increase the challenges for Pakistan on its economic front.
This is the second harsh move by US after the suspension of 900 million in security aid to Pakistan last month.[1] United states accused Pakistan of not implementing the UN Security Council Resolution 1267 which encourage states to take measure like assets freeze, travel ban and arms embargo in order to have a strong control over terrorism financing around the globe.
The FATF is an intergovernmental body headquartered in Paris. The task force was charged with studying money laundering trends, monitoring legislative, financial and law enforcement activities taken at the national and international level, reporting on compliance, and issuing recommendations and standards to combat money laundering. It also monitors progress in implementing the FATF Recommendations through "peer reviews". The FATF has recommended a complete document in which standard measures are highlighted for the states to handle this important issue. The recommendations include identifying the true risk of money laundering, need for national cooperation and coordination on terror financing, considering terror financing as a criminal offence on the basis of Terrorist Financing Convention, and drafting adequate laws for non-profit organizations so that that the terrorists organization may not pose themselves as legitimate entities.[2]