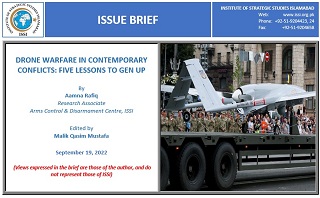 In recent years, drones are being used for various purposes in armed conflicts ranging from intelligence, surveillance and reconnaissance operations to counterforce strikes. The development of drone technologies is continuously evolving at a rapid pace. There are various lessons to be learned from this new and modern form of warfare.
Kamikaze Drone: A Game Changer or New Category of Duds?
The new breed of deadly, unpredictable and one-way single-use unmanned aerial weapon system that falls under the category of loitering munition, famously known as the "suicide drones" or "kamikaze drones" are playing a significant role in recent conflicts. In addition to regular Turkish Bayraktar TB2 drones, Azerbaijan also deployed Israeli kamikaze drones known as the "IAI Harop" against Armenia during the six-week-long Nagorno-Karabakh conflict. These drones destroyed Armenia's armoured forces as well as their logistics even before reaching the front line.[1] Similarly, the kamikaze drones like AeroVironment Switchblade, the Phoenix and Zala Lancet-3 are wreaking havoc in an ongoing Russia-Ukraine conflict.