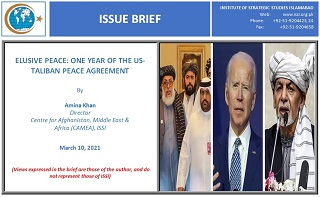 The end of February 2021 marked one year of the US-Taliban peace agreement signed in February 2020 in Doha. This was the most recent major attempt to bring an end to two decades of protracted war and bloodshed that has plagued Afghanistan. Culminating after 18 months of laborious negotiations, years of mistrust between the US and the Taliban as well as numerous challenges, the agreement included four essential components:
Ceasefire
Withdrawal of foreign forces within a fourteen month period
Intra-Afghan talks
Assurances that the Taliban will not participate in or aid others in threatening the security of the US and its allies.
Despite hopes that the country would return towards normalcy through the agreement, very little has been achieved a year later as a negotiated settlement still seems a distant dream.