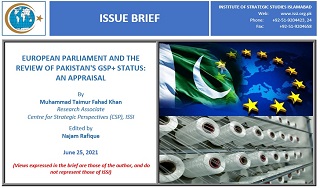 On April 28, 2021, the European Parliament (EP) adopted a resolution[1] that called for a review of Pakistan's GSP+ (Generalised Scheme of Preferences) status under the pretext of concerns about Pakistan's blasphemy laws and human rights record. The resolution was passed with an overwhelming majority in the EP with 662 votes against 3, while 26 members abstained from voting.
According to the German Member of Parliament (MEP) Reinhard Bütikofer, the resolution was initiated mainly due to the case of a Christian couple (ShaguftaKausar and Shafqat Emmanuel) who has been on death row in Pakistan for blasphemy charges since 2014.[2]
The review of Pakistan's GSP+ status is a matter of grave concern for Pakistan which comes at an extremely critical juncture in time. While the country is trying to shift its focus from geopolitics to geo-economics, the Financial Action Task Force (FATF) extraordinary plenary session to review Pakistan's status is also set to take place in the coming weeks this month (June 2021).[3]