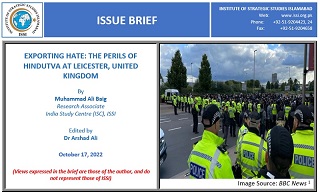 Introduction
The basic problem with hateful ideologies and revengeful narratives is their almost unrestricted ability of unlimited proliferation. This is why such threats are studied under the realm of non-traditional security threats. The manifestation of such an ideology-driven unfortunate event took place on August 28, 2022, at Leicester, United Kingdom (UK), when the hate filled Hindutva supporters chanted slogans against the majority Muslims and even repeated derogatory slogans against Pakistan. Since September 16, a total of 27 people have been arrested, most of them belonging to the Hindu religion and adherents of the Hindutva ideology.[2] It was also noted that "Half of those arrested over clashes in Leicester from outside county" and they especially came to Leicester to incite Hindu-Muslim violence.[3] The police acted responsibly; however, the clashes resulted in injuring many people from both sides.
The city of Leicester is the symbol of Britain's multi-ethnic, multi-national, and multi-cultural communities living together harmoniously devoid of any communal violence and hatred towards each other.
It all started following the India-Pakistan T-20 cricket match at the Asia Cup on August 28, 2022, in which India defeated Pakistan by 5 wickets.[4] Just after the match, almost 200 Hindutva goons marched in the Muslim majority East Leicester inciting violence against the majority Muslim community. The marchers also threw glass bottles and stones at Muslim property as well as on the riot police. Later, on September 4, Pakistan defeated India in another T20 match by 5 wickets.