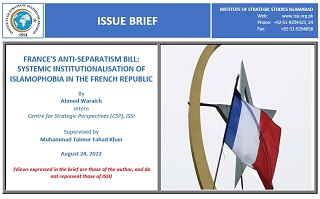 Almost a year ago, on July 23, 2021, the French parliament passed the most controversial bill of its history. The "Strengthening Respect for Republican Principles" famously known as "anti-separatism bill" is President Macron's systemic effort towards institutionalisation of Islamophobia. The Bill was passed by 49 against 19 votes with 5 abstentions.[1]
The bill has faced opposition from far-left, who consider it as anti-Muslim, as well as far-right, who believes it is too soft. Human rights activists believe that the "anti-separatism bill" threatens the freedom of expression and freedom of association of Muslim community living in France, which makes up 9 to 11 percent of the total population. France is the home to the largest Muslim community in Europe that is protesting against this stigmatizing bill. Moreover, Muslims around the world condemned Macron's government for snatching basic human rights of 5.4 million Muslims.
A week after the beheading of school teacher Samuel Paty, the French interior minister Gerald Darmanin put into motion the "anti-separatism bill". It is the legal continuation of "systemic obstruction policy" initiated in 2018. Threatened by their distinctive code of conduct and identity, with this bill, Macron is aiming to counter alleged separatist tendencies of Muslim as well as promotion of French laicite (freedom). The purpose of this bill is the assimilation of French Muslim community into broader French identity, hence confiscating their right to freedom of association.