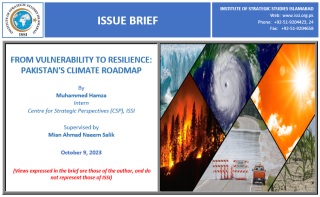 On July 26, 2023, the Ministry of Climate Change unveiled the National Adaptation Plan (NAP), a significant initiative aimed at addressing and preparing for the impacts of climate change in the country.[1] The document delves into climate change, examining its historical context, future projections, and its far-reaching effects on sectors like agriculture, human health, forestry, and infrastructure.
Key Highlights of NAP
Pakistan, like many other vulnerable countries, understands the necessity of adopting proactive steps to address climate change and protect its environment, economy, and population.
Relief, Rehabilitation, and Reconstruction
Relief work starts after the disaster has already occurred and may require coordinated efforts. Rehabilitation and reconstruction activities will be initiated simultaneously with the relief work where the situation allows NDMA and PDMAs to undertake relief and rehabilitation work involving the relevant organizations at the federal and provincial levels.
Sectoral Impacts and Adaptation Need
NAP aims to address issues in various sectors such as water, agriculture, forestry, coastal areas, biodiversity, and other vulnerable ecosystems. Pakistan is working on a plan that seeks to conserve energy, improve energy efficiency, and optimize fuel mix to support global efforts for a reduction in GHG emissions, but the more immediate and pressing task is to prepare for adaptation to climate change.