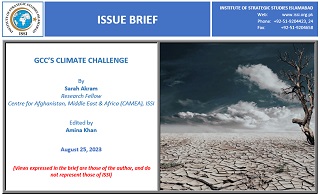 The contemporary global landscape is confronted with an array of challenges pertaining to global health, security and climate change. The world stands at a critical juncture when it comes to climate change, which has wreaked havoc in recent years and continues to do so with every passing day. The climate challenge also poses a significant threat to the Gulf Cooperation Council (GCC) states respectively. The impact of climate change has been devastating and has reached a critical point where immediate action is imperative.
Over the course of two consecutive years, the Arab world has undertaken the responsibility of hosting two significant climate change summits, known as the Conference of the Parties (COP). The most recent event, COP27, took place in Egypt in November 2022, and the upcoming COP28 is scheduled to be held in the United Arab Emirates (UAE) in 2023. Prior to this, the Arab region had already hosted three other COPs, with two in Morocco (COP7 in 2001 and COP22 in 2016) and one in Qatar (COP18 in 2012). However, it is noteworthy that Morocco and the UAE, have demonstrated substantial leadership in fostering climate action. While host countries did establish administrative institutions to address climate change, concrete climate action at the national level was limited prior to the adoption of the Paris Agreement in 2015.
Until 2015, among the six GCC states, only the UAE had a consistent climate policy framework, while green energy initiatives across the GCC region primarily remained experimental or research-oriented, lacking practical integration as alternatives to hydrocarbons. Consequently, the cumulative installed capacity of renewable energy in the GCC amounted to a mere 449 MW in 2016, falling significantly short of the region's energy demands.[1] However, subsequent to that period, the GCC's installed capacity for renewable energy has experienced a substantial surge, increasing nearly sevenfold to reach 3,498 MW by 2021, with the UAE accounting for more than 75 percent of this renewable energy capacity. [2]