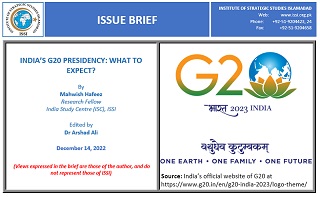 On December 1, 2022, India assumed the presidency of G20 which is regarded as the world's most important and influential international forum. India assumed the presidency of this very important multilateral forum at a time when the world is still struggling with the effects of Covid-19, the Russia–Ukraine war, growing Sino-US hostility, and rising food and energy prices across the globe resulting in global inflation and global climate emergency.
Founded in 1999 following the Asian financial crisis, the Group of Twenty, or G20 as it is commonly known, consists of 19 states and the European Union. The 19 countries are further divided into five groups. Of these five groups, four groups consist of four member states that include; (1) Australia, Canada, Saudi Arabia and the US; (2) India, Russia, South Africa, Turkey; (3) France, Germany, Italy and UK and (4) China, Indonesia, Japan and South Korea, whereas, the fifth group consists of Brazil, Argentina and Mexico.[1] Hence, G20 members represent 85 percent of the global GDP and around 75 percent of the global trade and two-thirds of the world population.[2]
The logo and theme for the G20 Presidency were unveiled by Prime Minister Modi on November 8, 2022, which attracted much noise and displeasure from many, particularly those belonging to the Indian National Congress Party.  Dismissing all criticism of the logo that places a lotus flower prominently (lotus flower is Bharatiya Janata Party's poll symbol), Prime Minister Modi stressed that the lotus was declared a national flower in 1950 by the then Congress Party.[3] The seven petals of the lotus represent seven continents of the world as well as seven notes of music. Prime Minister Modi hoped that the G20 would bring the world closer in harmony.[4] Whereas, the theme of  India's G20 Presidency is "Vasudhavia Kutumbakam" or One earth. One family. One Future.[5]