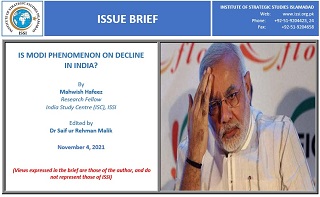 The year 2014 saw Narendra Modi taking India by storm. Emerging as the most powerful leader in decades, Modi was seen as a messiah who had come to rid the Indian people from the ills of unemployment, and corruption, put economic growth back on its track and save the nation against "enemy" (Pakistan and China).
Five years down the lane, the 2019 elections saw Modi coming back to power with even greater majority. To a large part, this spectacular return to power was because Modi was successful in convincing the Indian public (contrary to ground realities) that his government has taught a befitting lesson to Pakistan by conducting a surgical strike on Pakistan's Balakot area following Pulwama suicide attack. By beating war drums and creating war frenzy, Modi was able to play with the patriotism of the Indian public to his political advantage. Needless to say, this tactic paid dividends and Modi once again emerged victorious. In fact, to say, that Modi emerged as the sole leader will not be an exaggeration as no other party was even close to BJP in the race for the seat of Prime Minister.
However, since the beginning of the second half of 2021, Modi's popularity graph has been seeing a decline as is evident by the results of the survey poll "Mood of the Nation" that was conducted by Raj Chengappa of India Today.[1] The graphs below clearly indicate the declining popularity of Modi as compared to what Modi enjoyed just few months back.