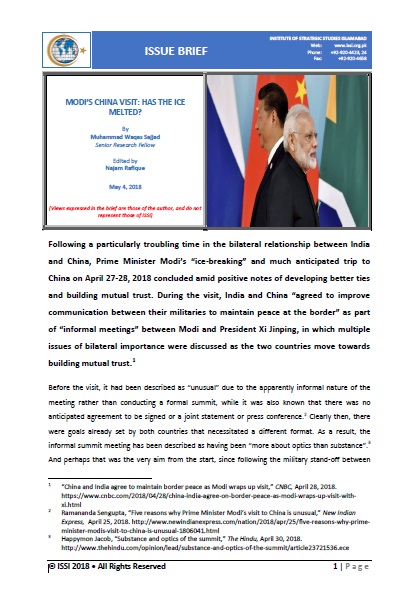 Following a particularly troubling time in the bilateral relationship between India and China, Prime Minister Modi's "ice-breaking" and much anticipated trip to China on April 27-28, 2018 concluded amid positive notes of developing better ties and building mutual trust. During the visit, India and China "agreed to improve communication between their militaries to maintain peace at the border" as part of "informal meetings" between Modi and President Xi Jinping, in which multiple issues of bilateral importance were discussed as the two countries move towards building mutual trust.[1]
Before the visit, it had been described as "unusual" due to the apparently informal nature of the meeting rather than conducting a formal summit, while it was also known that there was no anticipated agreement to be signed or a joint statement or press conference.
[2]
Clearly then, there were goals already set by both countries that necessitated a different format. As a result, the informal summit meeting has been described as having been "more about optics than substance".
[3]
And perhaps that was the very aim from the start, since following the military stand-off between India and China, trust-building measures, showcasing desire to negotiate and improve ties – rather than carrying out specific talks on any matter – were the order of the day. Modi's visit then was about creating the right atmosphere. And in this, it has been largely successful.
Read More