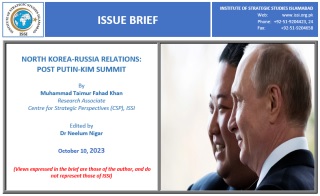 One of the most prominent highlights of September 2023 was the Summit between Russian President Vladimir Putin and North Korean Supreme Leader Kim Jong-Un which took place in Far-East Russia.
The Summit affirmed U.S. intelligence reports that were made public weeks before the actual meeting took place on September 13, 2023. This further added to the suspense and hype of the Summit when it was finally revealed, with scant details, that the two leaders will be meeting in Russia's Far East regions where President Putin was already present to attend the Eastern Economic Forum – EEF.
Kim Jong-Un's Visit to Russia:
North Korean Supreme Leader Kim Jong-Un's official visit to Russia took place from September 12-17, 2023. He arrived on his armoured train and entered the Russian territory on September 12, 2023. Undertaken on the invitation of Russian President Vladimir Putin, this was his first official visit abroad after the breakout of the COVID-19 pandemic. In all, this was Kim Jong-Un's second visit to Russia. The last time he visited Russia was in April 2019.
The 5-day visit was preceded by a visit of Russian Ministry of Defence delegation to Pyongyang led by Russia's Defence Minister Sergey Shoigu in late July 2023.[1]