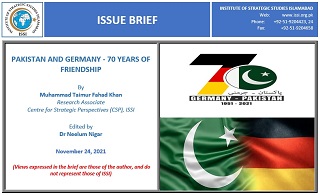 The year 2021 marked the 70th anniversary of the establishment of diplomatic relations between Pakistan and Germany that commenced in 1951. In the month of October this year, bilateral relations between Pakistan and Germany were celebrated in spectacular fashion by both countries. Pakistan's Ministry of Foreign Affairs organised a flagship commemorative event on October 14, 2021 to celebrate seven decades of Pak-German relations, hosted by the Honourable Foreign Minister of Pakistan Makhdoom Shah Mahmood Qureshi.[1]
Political and Diplomatic Relations
The dynamic relations between Pakistan and Germany are a cause for celebration for both countries. Since establishment, both countries have enjoyed a significantly close and diverse bond of friendship. As stated by the Ambassador of Germany to Pakistan, H.E. Bernhard Schlagheck during a public talk on October 21, 2021, Pak-German relations are good and based on mutual trust.