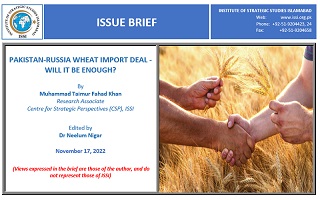 On October 29, 2022, dark shadows were cast on the future of global food security once again when amid the on-going Russia-Ukraine war, the Russian Federation announced its unilateral suspension of the landmark grain export deal[1] that was signed between the two warring parties with the assistance of Türkiye and the United Nations (UN).
Fortunately, with assistance and efforts of the UN and Türkiye, Russia on November 02, 2022 agreed to return to the deal, allowing food and fertiliser exports to continue to the global food market as per terms of the agreement.[2]
The deal was signed on July 22, 2022 and is valid for 120 days (4 months). It is set to expire in 2 weeks' time on November 19, 2022 and will be up for renewal, provided the signing parties agree to it. Therefore, the dark shadows might have been dispelled for the time-being but not completely decimated since matters can take a turn for the worst in the coming days.