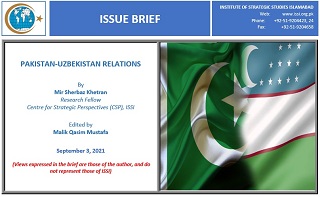 Prime Minister Imran Khan paid an official visit to Uzbekistan on July 15-16, 2021, at the invitation of Mr Shavkat Mirziyoyev, President of the Republic of Uzbekistan. Bilateral relations between Pakistan and Uzbekistan go way back to the very creation of the state of Uzbekistan. Pakistan was among the first countries in 1991 to recognise the independence of Uzbekistan and establish diplomatic relations.
After Uzbekistan's independence in the early 1990s, it was destined to be partners with Pakistan. Their (Pakistan and Uzbekistan) similar demographic configurations, shared religion and historical connections (between Farghana Valley and the Indian sub-continent) provide a strong impetus for the establishment of durable and cordial bilateral relations between the two countries.
The geographical locations of Pakistan and Uzbekistan are another factor that can help in enhancing bilateral relations between both countries. Both states are located at the cusps of their respective regions and can act as connecting points between the (natural) resource-rich Central Asian region and the agricultural heartland region of South Asia. The historically famous Farghana valley in Uzbekistan has always remained a commercial transit hub in the past which contributed immensely to the economic progress and development of the entire Asian continent.