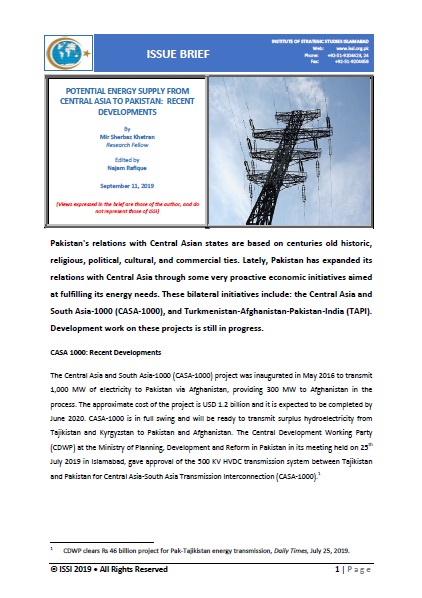 Pakistan's relations with Central Asian states are based on centuries old historic, religious, political, cultural, and commercial ties. Lately, Pakistan has expanded its relations with Central Asia through some very proactive economic initiatives aimed at fulfilling its energy needs. These bilateral initiatives include: the Central Asia and South Asia-1000 (CASA-1000), and Turkmenistan-Afghanistan-Pakistan-India (TAPI). Development work on these projects is still in progress.
CASA 1000: Recent Developments
The Central Asia and South Asia-1000 (CASA-1000) project was inaugurated in May 2016 to transmit 1,000 MW of electricity to Pakistan via Afghanistan, providing 300 MW to Afghanistan in the process. The approximate cost of the project is USD 1.2 billion and it is expected to be completed by June 2020. CASA-1000 is in full swing and will be ready to transmit surplus hydroelectricity from Tajikistan and Kyrgyzstan to Pakistan and Afghanistan. The Central Development Working Party (CDWP) at the Ministry of Planning, Development and Reform in Pakistan in its meeting held on 25th July 2019 in Islamabad, gave approval of the 500 KV HVDC transmission system between Tajikistan and Pakistan for Central Asia-South Asia Transmission Interconnection (CASA-1000).[1]