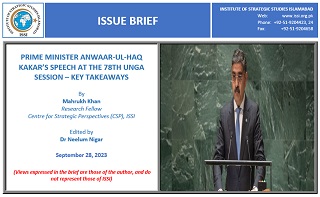 "Development depends on peace…"
Prime Minister Anwaar-ul-Haq Kakar addressed the 78th session of the United Nations General Assembly (UNGA) on September 22, 2023, and put forth Pakistan's stance on a range of regional and global matters including the long-standing unresolved Jammu and Kashmir dispute, actions aimed at strengthening economic recovery and initiatives undertaken to attract both domestic and foreign investments; Pakistan's commitment to global development, Sustainable Develo pment Goals (SDGs) and poverty reduction; and concerns about the volatile global political landscape.
As the world stands at this critical juncture in contemporary history, global conflicts are proliferating, escalating tensions among major powers are evident, and geopolitical considerations are overshadowing economic priorities. This situation is reminiscent of the Cold War era, and 'the world cannot afford Cold War 2.0.'[1] At the UNGA session, Pakistan expressed apprehension about the global economic outlook, including slow growth and the potential for a recession due to high interest rates and stressed on the importance of addressing global conflicts through cooperation and collective action.[2]