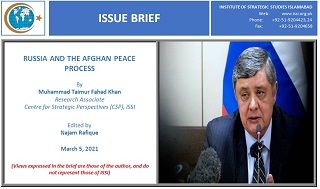 "The United States, not the Taliban, breaching the Afghan peace deal."[1] This was stated by Russia's Presidential Envoy to Afghanistan Ambassador Zamir Kabulov on February 17, 2021. This statement came hours before the North Atlantic Treaty Organization's (NATO) defense ministers' meeting which deferred the possibility of forces' withdrawal from Afghanistan by the US appointed May 1, 2021 deadline.[2]
There seems to be a change in the policy orientation and attitude of Russia towards the peace process in Afghanistan.
Despite allegations of playing the role of an antagonist for peace in Afghanistan[3], Russia, a former invader of Afghanistan, has adopted a positive policy approach towards the country in general and the ongoing conflict in particular. Russia has been making some genuine efforts towards the cessation of hostilities in Afghanistan and establishment of peace and security in the war-ravaged country.