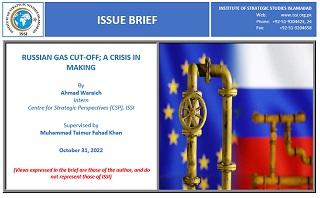 On September 26, 2022, Denmark and Norway reported undersea gas leakages in Nord Stream 1 and 2 pipelines.[1] Although the Western alliance did not overtly blame Russia, Ursala von der Leyen, head of the European Commission, stated that the pipelines may be sabotaged. In response, Russia has blatantly denied responsibility for the pipeline damage.
Since August 31, Russia indefinitely halted all gas exports via its Nord Stream 1 pipeline.[2] Although Russia cited maintenance work, we have observed partial closure of the pipeline in June (75%) and July (84%) too. As a countermeasure to economic sanctions,foreign policy experts opined,Russia is using Gas as a political weapon to inflict economic pain in the region. Moreover, a reduction in Russian gas and oil supply has soared energy prices in the international market, consequently increasing Russian revenue from energy trade to towering 400 billion euros in the current fiscal year.[3]
After the Russian-sponsored referendum in four Ukrainian regions (which the international community has shunned as sham), the European Union with the support of G7 states imposed new rounds of sanctions against Russia. In addition to banning Russian individuals, entities and energy commodities (oil and gas), the EU now aims to cap energy prices.[4]