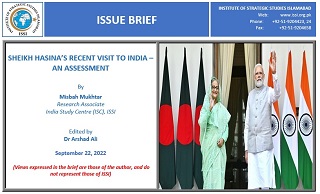 Bangladesh's Prime Minister Sheikh Hasina visited India from September 5-8, 2022.[1] PM Hasina's recent visit came after she accepted Prime Minister Modi's invitation to visit India under his "neighborhood first" policy. [2]  The visit was aimed at strengthening relations between Bangladesh and India through increased connectivity and trade facilitation. Upon her return to Bangladesh, the Bangladeshi Premier stated that "I have not returned empty-handed from India."[3] During the visit, seven Memorandum of Understanding (MoUs) were signed in areas like water-sharing, railways, science, judiciary, and space[4] between the two countries.
A peek into the highlights of PM Hasina's activities in India is crucial to analyze the visit.
On 6th September, Sheikh Hasina announced the Mujib Scholarship to 200 family members of descendants of Indian soldiers killed and injured in the 1971 war.[5]  Two MoUs titled, "Training of Bangladesh Railway Employees in the Training Institute of Indian Railways" and "Collaboration in IT Systems such as Freight Operations Information System (FOIS) and other IT applications for Bangladesh Railway" were signed between the Railways Ministries of both countries.[6] Hasina also met the Indian President Droupadi Murmu[7] and the former Congress President Rahul Gandhi[8] on the same day.