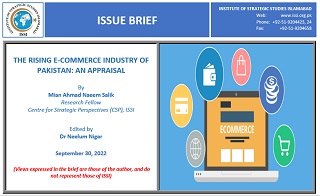 E-commerce is expanding rapidly in Pakistan, and it is becoming a major trend among the people who use the internet. The trend is increasing due to proficiency of authentic websites or portals where the sale and purchase are good. Furthermore, speedy-internet connectivity and availability is also one of the biggest factors for increasing e-commerce in Pakistan. E-commerce is becoming a major contributor to the economy of Pakistan.
One of the major winners from Covid-19 globally has been e-commerce companies in Pakistan. Based on data published by the State Bank, the number of registered e-commerce merchants in Pakistan increased from 1,707 in 2019-20, to 3,003 in 2020-21, a 76% increase. Pakistan was the 37th largest market for e-commerce with a revenue of USD 5.9 billion in 2021, placing it ahead of Iran and behind Israel. With an increase of 45%, the Pakistani e-commerce market contributed to the worldwide growth rate of 15% in 2021.[1]
According to data released by Statista, a German company specialising in market and consumer data,  Pakistan's e-commerce market is projected to generate US$7.666 billion revenue in 2022. With an annual growth rate of 6.09 percent between 2022 and 2025, the  projected market volume  would be US$ 9.1 billion by 2025.The e-commerce market in Pakistan has now been around for nearly 20 years. In Pakistan, e-commerce tends to be dominated by business to consumer (B2C) companies. There are three main sectors, general e-commerce, groceries/quick(q)-commerce, and fashion.[2]